BDO ALLIANCE USA
BDO Alliance USA - Value to CPA Firms from BDO Alliance USA on Vimeo.
Since 1998, Barfield, Murphy, Shank & Smith has been an independent member of the BDO Alliance USA, a nationwide association of independently owned local accounting firms sharing a dedication to exemplary client service.
By supplementing our services, the BDO Alliance USA allows us to:
Enhance our client services and broaden our capabilities overall
Expand our domestic and international coverage
Gain greater technical knowledge in specialty areas
Utilize professionals with experience in a wide range of industries
Access the most up-to-date technical information
Participate in the latest training programs
Utilize state of-the-art, customized computer systems
Provide our clients with key contacts and sophisticated professionals throughout the U.S.
By supplementing our existing services, the BDO Alliance USA brings us the necessary tools to better serve our clients with greater flexibility, efficiency and cost effectiveness. We can now offer expanded capabilities in such specialty areas as appraisals, corporate finance, litigation consulting, energy, cost segregation and real estate services.
The BDO Alliance USA is a subsidiary of BDO USA, LLP, a Delaware limited liability partnership. For more than 100 years, BDO has provided quality service through the active involvement of experienced and committed professionals. The firm serves clients through 58 offices and more than 400 independent Alliance firm locations nationwide. As an independent member firm of BDO International Limited, BDO serves multi-national clients through a global network of 1,328 offices in 151 countries.
This arrangement in the Alliance is very similar to the arrangement that exists between national firms with multiple offices. We can utilize BDO and our Alliance partners to assist in complex transactions or draw upon our close contacts at regulatory institutions or professional service organizations to provide clients with quick responses when timing is critical.
BMSS is the only firm in Birmingham and one of 6 in Alabama in the Alliance.
Read more about the BDO Alliance USA.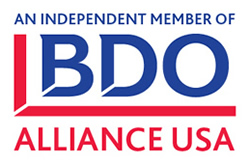 BDO Alliance USA - Value to CPA Firms from BDO Alliance USA on Vimeo.
FEATURED CPA
Keith Barfield,
CPA, CITP
Founding Member
Keith Barfield has five children - Heather, Mitchell, Sacca, William, and Jillian. He is a founding member at Barfield, Murphy, Shank & Smith and has lead resp... read more
LATEST NEWS
Beyond the Bottom Line May 2015
Taxpayers with Foreign Assets Have June Filing Deadline
Payroll & Benefit Solutions Celebrates 10 Year Anniversary
Best Place to Work and Special 10-Year Achievement Award
Client Testimonials
"The different ideas that have been presented to us by BMSS have benefited our company more than we could have ever imagined. Your promptness is impeccable and something we were not used to in the past."